June 11, 2006
Lunenburg High School

Thank you for joining us for Connorfest! It was a celebration showcasing local musicians with music, food and fun!
Thank you to our 2006 organizing committee and many volunteers:
Our organizers - Jessica Parsons, Jessica Glinski, Sara Penniman, Tammi Reynolds, Kyle Forest, Alexa Drolette, Kelly Brand, Joey Brogna, Northeast Sound, Gina Souza, Tim Jobin, Karla Lewis and Gary Moison.
Thank you to our 2006 performers:
Lindsey Blouin, Brittany Walsh & friends, Alysia Belisle, Stacey Hotchkiss, Ricky Hillson, My Place in the Cosmos, Mike Shattuck Band, Sara Pennimen, Kelly Brand, Jessica Parsons, MonoStereo, and Cam Peahl's Garage Band.

Thank you to our 2006 Sponsors:
Laurie Christensen, The Strazdis Family, The Fickett's, The Brockelman's, Jodie Rachman, The Reynold's Family, Sarah Sabatini, Kim Frysinger, Christine Tenneson, John Ledger, Kathy Swantee, The Kincaid's, Ed Mahoney, Angela Craggy, Carol Keir, Greg Smith, LHS, Dan Bourgeois, Lunenburg Police Department, Lunenburg Liquors, Colonial Imports Inc., Image Auto Sales & Service, All About Animals, Asian Imperial Garden, Aubuchon Hardware, The Bloomery, Bootlegger's, Centre Pizza, Chapdelaine, Cinema World, Dario's, Dick's Farm Stand, Dufour's, Elena's Gourmet Grocery, Ixtapa Cantina, Janet's Hot Dogs, King's Buffet, Kwon's Tae Kwon Do, Lanni Orchards, Gloria's, Gomes Liquors, Grand Rental Station, Grotonwood, Hey Good Lookin', Kate's Hallmark, Lakeview Nurseries, Lunenburg Exxon, Marien, Priscilla and Friends from IRS, Maki Home Centers, New Outlooks, Padula Brothers, Powell Stone and Gravel, Presto Pizza, Re Jewel Vinated, Sean Patrick's , Sky Cycle, Stillman's Farm, Team Sports, Video's, Video's, Video's, The Village Grill, Walmart, West Fitchburg Pizzeria, Worker's Credit Union, Yarn Basket, Cherry Hill Farms, The Leblanc's, Westminster Country Club, Beyond Petal Pushers, Windmill Florist, Maxine Leesha, William's Restaurant, The Westminster Golfers, Sunshine Tent Rentals, Joey Brogna, Northeast Sound, Fran Dowdr, Fun Stuff Rentals and AMC Entertainment.

Photos from 2006:
Click on the thumbnail images below to see the full size photos from Connorfest 2006: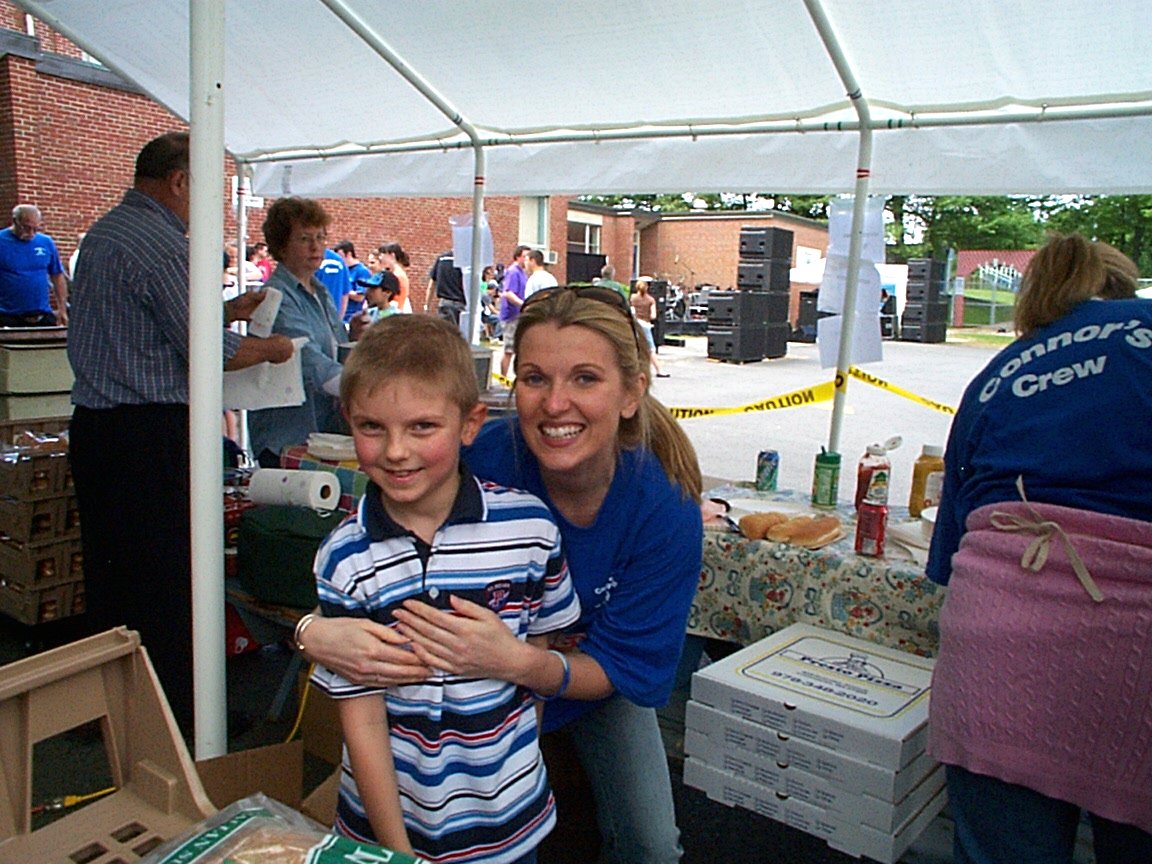 Miss. Elliott and one of Connor's classmates at Connorfest 2006!